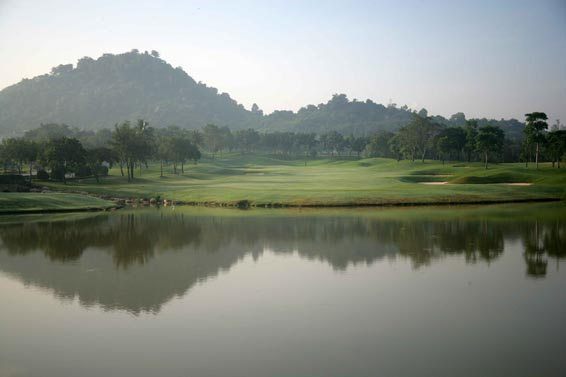 Here is the sixth of my top 10 Thailand golf courses.
Laem Chabang International Country Club, Pattaya
Laem Chabang is the best of the six courses that golf legend Jack Nicklaus has designed in Thailand. This 27-hole complex offers three 9-hole courses (Lake, Valley and Mountain), each a close-to-nature experience that is visually appealing and, at times, quite challenging. The Pattaya golf course layout is a rewarding and challenging one with plenty of hazards, bunkers, sand traps and water hazards, along with the natural hazards, lakes, ponds creeks and rock formations.
The Mountain Course begins as a jungle-like experience, before opening up to wider fairways and excellent fast greens. It is the most requested of the three nines, albeit my favorite is the Lake and Valley combination.
The Valley Course in particular, which at 3619 yards is 200 yards longer than the Lake and Mountain Courses, features water on many holes and demands requires precision shot making off the tee and into greens that are well guarded by water and sand.
Laem Chabang has hosted numerous championship events, including the 2001 Volvo Classic, the 2002 Thai Senior Open and more recently the 2010 Thailand Open. Laem Chabang is a member of Golf In A Kingdom.
Insiders Tip: Try the night golf at Laem Chabang for a special Pattaya golf outing. Playing floodlight fairways has a appeal to many Pattaya golfers as it is generally cooler and less crowded. As an added bonus and for those on a limited budget night golf, which actually starts at 4:00 PM, is 500 baht less expensive weekdays and 1000 baht less expensive on weekends as compared to the price of day golf. So you play the first nine watching the sun set and then the second nine under the stars and save some baht for entertainment after your round!
This post has already been read 11 times!