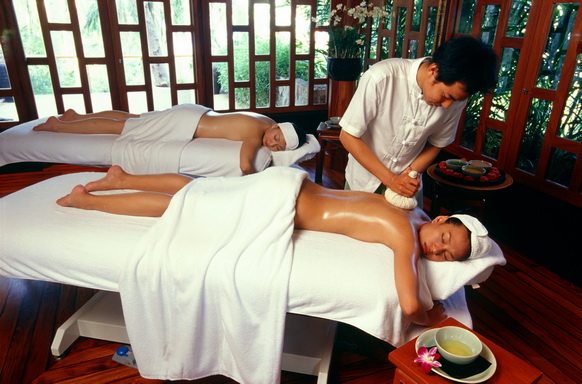 Want to plan a Thailand golf vacation but also need to make sure your non-golfing travel partners are happy?  No problem.  Below are some of the more popular non-golf activities to include on your golf holiday itinerary.
All Over Thailand
Massage:  Thai massage, Swedish massage, jet lag massage, sports  or golf massage, foot massage, neck & shoulder massage, fish massage, aroma therapy, hot stone therapy and more. You are never far from a spa in Thailand. Most good hotels have them and you will find many more all over the country.
Bangkok
1. Best of Bangkok Tour:  Includes the Grand Palace, the city's most famous temples and a long tail boat ride on the Chao Phraya river.
2. Thai Cooking School:  Fun hands-on experience as you cook (and eat) a multi-course Thai meal.
3. Siam Niramit:  Dinner and Thai culture show.  World class stage production is one of the best of its kind.
Phuket
1. The Beach:  Phuket has some of South East Asia's best beaches.
2. Phi Phi Islands Tour:  Take a speed boat to numerous beautiful and exotic limestone islands popping up out of the sea.  Swim and snorkel among the coral reefs as well. Barbeque lunch is included.
3. Island Highlights Tour:  Includes Kata lookout point, Wat Chalong Temple and Phuket Town. Remember to bring your camera.
4. Phuket Fantasea: Dinner and Thai culture show.  Elephants, magic, song, dance, acrobats and much more. If you can see only one show in Thailand, this is the one!

Chiang Mai
1. Elephant Camp Adventure:  Watch elephants perform amazing feats as they display their talents and intelligence in a show to remember, then afterward take a ride through the jungle on these sure footed icons of Thai culture.
2. Doi Suthep Temple Tour:  High atop Doi Suthep mountain with impressive views of Chiang Mai, this is one of Thailand most beautiful and important temples.

3. Doi Inthanon National Park:  Thailand's tallest mountain and the coolest spot in the country (take a jacket along).  Along the way you'll visit the King and Queen's beautiful twin pagodas, giant waterfalls, a rainforest and hill tribe villages.
Chiang Rai
1. Golden Triangle Tour including Opium Museum and visit to the Burmese border town of Mae Sai (northern most point in Thailand).
2. Long Tail Boat Ride on the Mae Kok River. Can even use this to travel from Chiang Rai to Thaton (half way to Chiang Mai)
This post has already been read 17 times!