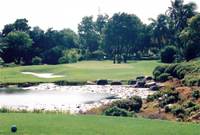 Further to my recent post, Thailand Golf Gaming, the Thais love to gamble and all over the Thailand golf courses' gaming is prevalent. A few years back I learned a hard lesson when, playing at the old Natural Park Hill Golf Course in Chonburi, near Pattaya and now called Mountain Shadow Golf Club. That day a Thai friend of mine introduced me to a golf gambling game the Thais all play called Pok-Daeng, the same name as a popular Thai card game.
Pok-Daeng is best described as a sort of variation on poker, where each player (golfer) gets to bet and double down the previous bet after seeing his initial hand (drive). It starts with a bet of one unit, say 100 baht. The 1st player tees-off and, if he has a good drive, says "double" – that means he doubles the bet to 200 baht to the other 3 players. The 2nd player tees-off and, if he says nothing that means he bets 200 baht against the 1st player. The 3rd player tees-off and, if he is in a great position, says "double" – that means he now bets 400 baht against the 1st player but 200 against the 2nd. The 4th player tees-off and says nothing – that means he bets 200 baht against the 1st and the 3rd players, but 100 baht against the 2nd player.
The betting is per each hole for the complete 18 holes. Basically, you are backing yourself (or not!) against each of the others in your golf group once having seen where your tee shot has landed.
From my experience where I paid out to all the Thai golfers in our four-ball, my recommendation, except if you are right on top of your game, or you really know what you are doing, is to steer clear of Pok-Daeng unless you are ready to make a sizable contribution to the Thai economy!
I would like to acknowledge Khun Parichote Sukriket, Managing Director of World Splendour Holidays. Khun Parichote is one of the pioneers in the travel and Thailand golf travel business and he contributed greatly to this post. Thank you Khun Parichote!
If you have any golf gambling suggestions please feel free to post them here or drop me an email at at my Thailand golf vacation company and I will take care of the posting duties. It amazes me how many games are played on the golf course and sharing of your favourite ones would, I'm sure, be most interesting to all the readers of the Thailand golf zone.
This post has already been read 12 times!