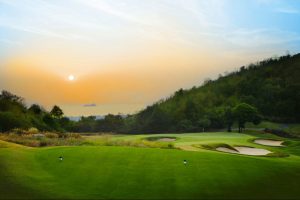 Everyone likes a good time, right, experiencing new cultures, playing on the best golf courses known to man. Well, I've something to tell you, so do we. So much so that we've been organizing and holding our own "tournaments" for some time now, and as time has rolled on, these tournaments have turned out to be, not only hugely popular, but sell out events, which are now growing in numbers, venues and countries.
So, what are the advantages to registering for one of Golfasian's events? There are lots of reasons, most of them individual to you. But, at the top of my reason list, you don't have to do anything; I mean nothing, except turn up and play. Let me explain how it works. First of all, you'll need to chose which event works best for you and your party. Moving on, once this is done and your departure date arrives, you'll be met at the airport and transported to your hotel. A welcome chat will re-confirm where and when you'll be playing, and how things will take place each day. Day one, you'll be picked up at your hotel for each round, enjoy a fantastic day of golf, meeting lost of new people. All golfers meet at the 19th hole afterwards for a bit of food and a few beers, and generally chat about the day, then transported back to your hotel, with all your unforgettable memories.  Day two, see day one. Honestly, it's that easy and that fun. Taking part in an organized event is always a little bit of a gamble, especially if you've never partaken in one before. But, once that gamble has been made, then it's plane sailing, and you'll definitely want to repeat the experience. There is, of course, the added bonus of winning one of the many prizes on offer. The Centara Masters is most probably our largest event, attracting around 600 players. This has become our signature event, a real celebration of golf, becoming the biggest tournament for club golfers in Asia.  The hotels we use are always first class, with plenty of activities to keep the non-golfers busy. You can get a choice of which hotel you would prefer to use.
For 2017 we are holding the following showpiece events. It's super easy to register, just click on the links below:
---
19-25 March
Amari Pattaya Golf Week
Thailand
Courses
Laem Chabang CC
Burapha CC
Siam CC Waterside
Siam CC Plantation
---
---
---
So, go on, take the plunge, register for one of our events, be one of the growing number of golfers to experience the trip of a lifetime. Golfasian can really take care of everything. For a full and comprehensive quote, or just for some advice, please don't hesitate to email info@golfasian.com
This post has already been read 13 times!