Hua Hin is the oldest and most traditional of the Thai resorts. It combines the attractions of a modern holiday destination, 5 star hotels, fabulous restaurants, gorgeous beaches, first class golf courses, with the charm and fascination of a traditional fishing port. Which is exactly what it was like when I first visited, more than two decades ago. While most other Thai holiday destinations cater mainly to foreign tourists, Hua Hin is a holiday resort for foreigners as well as Thai nationals. Besides it's great 5 mile long beach Hua Hin provides the highest density of world class golf courses anywhere in Thailand while it's yet virtually undiscovered as an international Golf destination. Green-fees and other costs are among the lowest in the world and course maintenance and services are kept to a very high standard.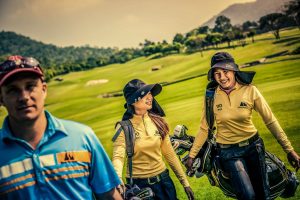 Golf in Thailand was started in Hua Hin, with Royal Hua Hin being the first course, designed by a Scottish railway engineer no less. Hua Hin has another 9 fantastic courses, all worth a visit. Jack Nicklaus has Springfield Royal Country Club, which presnets the golfer with 27 wonderful holes, all beautifully designed. Sea Pines, a kind of links course, is the newest, opened just five years ago. The signiture 16th hole has that "wow" factor, with beautiful ocean views. Must plays are Banyan and Black Mountain. Black Mountain has held several PGA games over since it's opening and has won many awards and honours.  The same can be said for Banyan, which has now been open for 9 years. It's the course I've played most, not only for the golf, but the apres golf is perfect, sundowners are perfect.
The resort of Hua Hin was discovered in the early 1920s by King Rama VII as an ideal getaway from the sultry metropolis of Bangkok. The tranquil fishing village was turned into the Royal resort and consequently became popular among Thailand's nobility and upper-class.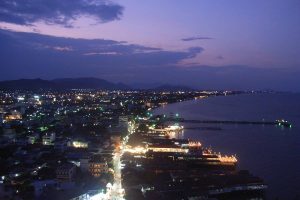 Today's visitor to Hua Hin will still sense this special atmosphere and old world charm. Besides sun-filled days on the 5 mile-long beach there are leisure activities for the whole family from watersports and shopping to golf. The area around the town let's you discover fabulous national parks with fantastic peaks, caves and waterfalls.
In the evening the winding streets have a great variety of shops and markets that make for a relaxed stroll, and the restaurants built on stilts into the sea offer superb seafood prepared in the age old traditional Thai way. Hua Hin has all the ingredients for a very special holiday experience.
So, why not enjoy the sites, sounds, tastes and, of course, the golf, in Hua Hin. Golfasian can take care of everything. For a full and comprehensive quote, or just for some advice, please don't hesitate to email info@golfasian.com
This post has already been read 14 times!