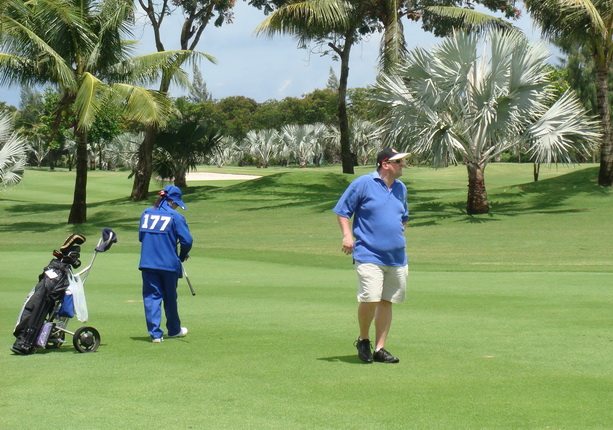 Thailand golfers and golf holidaymakers continue to play despite political turbulence, an Icelandic Volcano shutting down most flights from Europe, a brace of canceled travel plans and worries from skittish Asian golfers alike.
Contrary to BBC, CNN, and other news reports, which tend to sensationalize events, the real fact is 99 percent of the country and 100% of the Thailand golf courses are operating as normal. Even more important, my own company, Golfasian has some 100 golfers in Thailand at the moment and not a single one has been affected in anyway. Of course, I still look out for their welfare, or at least assure them that their safety isn't an issue, because, in my view, it isn't.
There can be no minimizing the fact that the areas of the demonstrations are unsafe. But the reality is, I was all over Bangkok this week, out to the airport and around downtown, and if I weren't surfing the Net or watching TV, I would not have known anything was amiss. The demonstrations and ultimately the violence have been restricted to very small, very specific areas of this enormous city.


My second concern is the long-term toll these events, still ongoing, will take on Thai golf tourism — one of the country's largest and fastest growing tourism segments. International arrivals according to the Airports of Thailand dropped 4.1 per cent over the same period last year. Practically all meetings and conventions in Thailand have been cancelled. Some analysts are now predicting up to US$500 million could be lost from the Thai economy, hitting retail and tourism businesses hardest.
It's hard to strike the right balance in assessing the effects going forward. It's disrespectful and simply untrue to assert that things are going forward, and will go forward, as normal. This is the worst political violence in 20 years. But it's also true that this is a country where the military has staged 18 separate coups since the 1930s, a country where politics are raucous and protests are common place. I mean, the past week's event have shaken the Thai people. No question. But from a tourist and Thailand golf holidaymaker's perspective, things will recover quickly. They always have.
This post has already been read 12 times!