My name is John Billington. I live in Aukland, New Zealand, which is the largest and most populace area in the country. I am a member of Titirangi Golf Club, a course designed by Alastair McKenzie on his trip south to design Royal Melbourne. I have played golf in most continents and especially on the McKenzie courses in California (including Cypress Point). I was a scratch handicapper but at 66 years I am now playing off a respectable 7.
I have been travelling to Europe for sailing holidays regularly for the past five years and transit through Asia. I travel one way alone, meeting my wife in Europe and taking the opportunity to play some golf on the way.
I started using Golfasian to arrange golf holidays in Thailand. It worked seamlessly for me with transport etc and because they tended to join me up with other groups I met many interesting people from all around the world whom I would not otherwise meet: Russians, Swedes, Germans, Dutch, Swiss, Scandinavians, and golfers from all over Asia; fascinating!!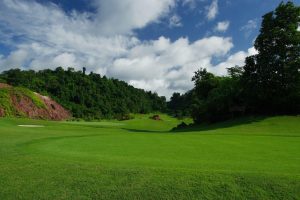 The courses are all good, well-groomed and economical by world standards whilst facilities are of a uniformly high standard. Last year I spent a week on my own golfing in Phuket and recently a week in Chiang Mai. Red Mountain in Phuket is particularly stunning and a great test, whilst Alpine Chiang Mai is unique with its beautiful surroundings and varied types of holes providing different challenges.
I usually stay in hotels in the city rather than at a resort because I enjoy sightseeing, the local markets and restaurants including the wonderful street food.
Thai caddies are exceptional and great company; quite able to lift my spirits and get me back on track if I'm finding it difficult to find my rhythm. The Golfasian drivers are invariably courteous and efficient, providing recommendations on local attractions.
I will return to Thailand soon, this time with a group of friends from Titirangi. We shall probably play in the Chiang Mai area because the climate is appreciably cooler, the countryside truly beautiful and mountainous and there is such a lot to do and see. I'll leave the arrangements to Golfasian…they haven't let me down yet!
This post has already been read 14 times!