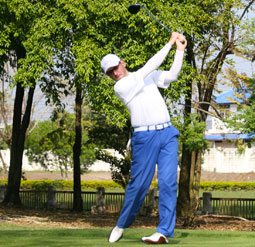 Thana City is a longtime favorite of mine and Greg Norman's only Thailand golf course. Over the last 2 years this Bangkok golf course has been on a massive upgrade campaign under the management of Absolute Golf Services.
This regeneration is continuing and the latest project is the renovation of the former Ledbetter Academy at the driving range and practice facilities. Nowadays, PGA Member and Bangkok resident Andrew Knott moved-in and  his Golf Performance Coaching academy, Perfect Swing Asia has been in place since November. Previously, Andrew was based at the Bangkok Golf Club, which unfortunately got destroyed in last November's floods.
I spoke with Andrew the other day and Andrew says, "Perfect Swing Asia is based on the idea of finding your perfect swing", with the focus being on golf performance" He offers packages for Bangkok residents and visiting Thailand golfers looking for intensive training He says, "The key is to identify the areas where performance and enjoyment can be improved, then focus on how do it using facts, not feelings".
Whilst Perfect Swing Asia is for golfers of all levels and it is great to see the continued upgrading at Thana City, Andrew is working on a new project with two acclaimed Australian coaches. Pro Tour Golf College Thailand is a full-time training program for golfers who want to play golf as a professional on tour.The programs are currently running in Australia and the first semester will begin in Thailand on 30th April.
If you are looking for a great Bangkok golf experience, or just want to work on your game improvement, head over to Thana City and look up Andrew at the Perfect Swing Asia. Just be prepared to explain to your mates how your golf game improved so fast!
This post has already been read 30 times!