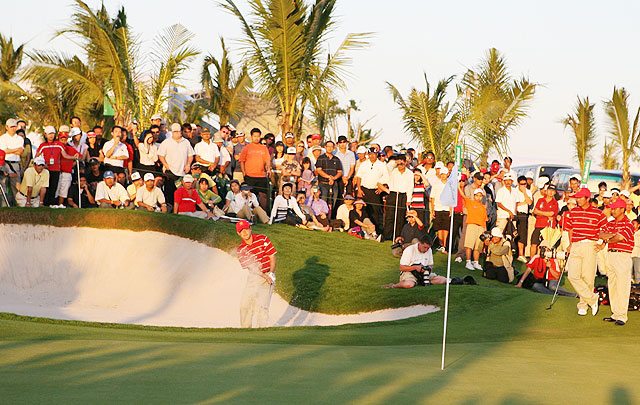 I often get asked about golf at Amata Spring Country Club. Located halfway between Bangkok and Pattaya, Amata Spring is currently closed to visitors. However, there are 2 ways to get on for those on a Thailand golf holiday and wanting to play.
First a little history and update about the golf course. Amata Spring Country Club was opened in 2005 and up until now kept as a private member's only golf club.  The course was designed by Schmidt-Curley Golf Design from the USA and was initially a good layout, and had the makings of a great golf club.
However, I was surprised to see the conditions so run down the 2 times I played recently. Rough areas seeded with native red-grass have never grown in and are now just barren open waste areas. The greens, while undulating and well-bunkered roll a slow 8 on the stimpmeter with obvious signs of graininess from the strain of Paspalum grass used. A better choice would have been to go with the Eagle Turf found on the areas other premier courses like Alpine Golf Club in Bangkok and Siam Country Club in Pattaya.
On the other hand, the golf course plays to a length of over 7,400 yards from the tips, ensuring challenging play for golf championships. Speaking of professional events, Amata Spring Country Club hosted the Royal Trophy in 2006 and 2007. The Royal Trophy is a unique competition played between the continents of Europe and Asia in a team match play format. The best players from Europe play against the best players from Asia to compete in a series of matches for stewardship over the perpetual Royal Trophy – graciously donated by His Majesty the King of Thailand.
Now this brings me to the point of this post: "How to get on at Amata Spring Country Club?"
Other than playing as a member's guest, you can attend the Royal Trophy 2009 and play a round after the event. On January 12, 2009  the course and settings (including pin positions, tees locations, speed of the greens) are open for play for 40 visitors in order to give the Thailand golf holidaymakers a the 'once in a lifetime' experience of playing under the same conditions as a professional golf event. Details of this opportunity can be found at a number of Thailand golf tour operators, including Golfasian. Drop me a message if you are interested, it might be a fun way to spend part of your golf holiday in Thailand this winter.
This post has already been read 10 times!