Hi, my name is Philip Crowther. I am British, originally from the Great Yarmouth area of Norfolk and took up golf about 20 years ago while in my early forties. I predominantly played on seaside links golf courses in the UK and have worked and played golf in many locations around the world. Sadly, old age and lack of playing opportunities have slipped me back to a 28 handicapper these days.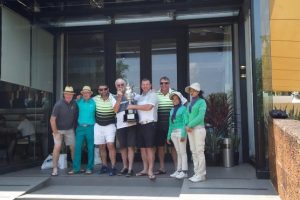 Although I have played in many locations around Asia, this was my first golfing visit to Cambodia. I organised this trip with five of my male work colleagues. Four of our wives came on the trip, but did not play golf. However, they all thoroughly enjoyed themselves with shopping, spa treatments and visiting Angkor Wat.
This was a 6-day visit and we stayed at the Aviary Hotel in Siem Reap, playing 3 days golf at Phokeethra & Booyoung Country Clubs and the final round on the Nick Faldo course at Angkor Golf Resort. The hotel, staff and service were first rate and I quite happily recommend the hotel and would stay there again. The Cambodian people were wonderful, friendly and readily accepted 'No' when you didn't want to buy something.
Overall the golf experience was fantastic, all the courses were in very good condition. However, the Faldo course at the Angkor Golf Resort was quite clearly the best of the three. The whole package, from their free driving range facility to the caddies, course and club house / restaurant were 5 star. The bunkers on this course were also very consistent throughout the course, and I know because I found enough of them on all three courses.
Most nights we all met up for a group dinner on Bar Street, with the Red Piano Bar Restaurant quickly becoming our local haunt.
I cannot recommend this experience too strongly. We were looked after very well by Golfasian, from their handling of the enquiry to all the logistics, everything went smoothly. As for golfing in Siem Reap, it's ideal for golfers and non-golfers, particularly couples. Now it's just a case of where next?
This post has already been read 12 times!