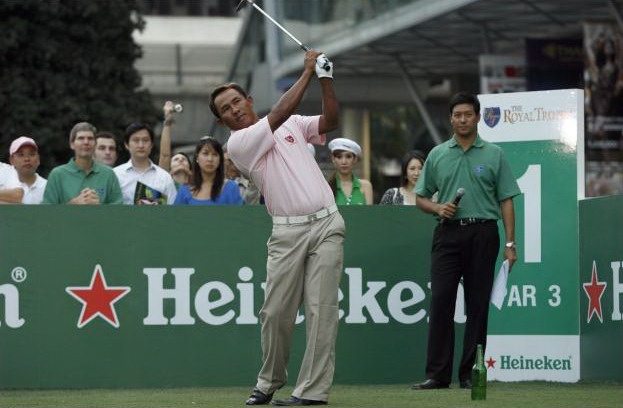 Here are the Thailand professional golf events scheduled for 2009.
Increasing parity between golfers from Asian and Europe was quite evident as well during The Royal Trophy held Jan 09 – 11 at Bangkok's Amata Spring Country Club.  In a format very similar to The Ryder Cup, The Royal Trophy matches Asia against Europe.  The event was the brainchild of Seve Ballesteros with the perpetual trophy graciously donated by His Majesty The King of Thailand. 
During the first two editions the Europeans cruised to easy lopsided wins under Ballesteros, though things changed dramatically this year with the Asian team captained by Joe Osaki delivering a royal butt kicking (karate chop?) to Jose Maria Olazabal's Euro squad.  Thailand's popular duo of Thongchai Jaidee and Prayad Marksaeng led the way with impressive wins of 5&4 in Friday's Foursomes and 4&2 in Saturday's Fourballs, before 'sealing the deal' with Singles knockout wins of 5&4 and 5&4 on Sunday. Though the final score was Asia 10 Europe 6, it was all but over after Saturday when Asia took an almost insurmountable 6½ to 1½ lead.  Some are saying this may do for Asian golf and The Royal Trophy what the end of US dominance did a couple of decades ago for The Ryder Cup and European golf.  And with rising young stars such as Japan's 17 year old sensation Ryo 'The Shy Prince' Ishikawa, who could argue?
Next stop:  Bangkok again ('One Night in Bangkok' is not enough!) with the Asian Tour Invitational at Suwan Golf and Country Club February 05 -08.
The Thailand Open will visit Laguna Phuket Golf Club March 05 -09.  Though sponsored by the Thailand Golf Association and not an official Asian Tour event, Phuket's allure and prize money of $500,000 will no doubt pull in a strong field.
Hua Hin gets in on the act March 26-29 with the Black Mountain Masters (Black Mountain Golf Club) making its inaugural Asian Tour debut.
A month later after stops in Singapore, China and Korea, the tour comes back to Thailand again with Pattaya's Siam Country Club Old Course hosting the Jaidee Invitational April 30 – May 03.
Then after a wide flung seven months in Korea, Singapore, Japan, India, Malaysia, Brunei, mainland China, Hong Kong and Taipei… it's back to Bangkok one more time for the Asian Tour's season finale Volvo Masters of Asia at Thai Country Club.
AND BEST OF ALL…
YOU can play most of these same courses!  Unlike the U.S. PGA Tour where most events are held behind ivy covered gates of exclusive clubs you'll never step foot on unless there as a spectator or assistant weed puller, in Thailand you can actually get a tee time where the pros play!  Contact me at info@golfasian.com for more information.
This post has already been read 17 times!