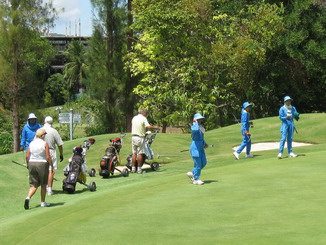 Jim's just back from golfing in Chiang Mai and Chiang Rai and I just got back from watching the Thailand Open in Phuket.
While on his trip Jim came up with these 3 tips that worked for him and I can say after watching the pros in Phuket that the same basic concepts help them as well. Why not apply the tips to your game the next time when golfing in Thailand?  Here they are:
1. ON THE TEE – JUST PUT IT IN PLAY
The purpose of the tee shot is to put the ball in play.  When golfing in Thailand you aren't going to make a birdie or par based on your tee shot, though you can easily eliminate the possibility by trying to rip a big one down into the narrow part of the fairway.  Be realistic about your abilities, how well you are playing on the particular day and how confident you feel.  Many amateurs on a Thailand golf holiday and playing at unfamiliar golf courses would hit more fairways and get into a lot less trouble by hitting 3 woods from the tee more often, and probably wouldn't lose that much distance.  As I sometimes say; "The jungles and lakes around Thailand golf courses are full of big hitters". 
2. KISS
Here I am not referring to KISS your caddie, (ed. although this might not also be a bad idea and I have seen several people try the tip this way), but "Keep It Simple, Stupid!".  Try to work on eliminating unnecessary motion from your swing.  The more 'dancing and jiving' that occurs during your swing, the harder it is going to be to deliver the clubface squarely through impact. Ask your mate to video your swing. Many of today's digital cameras, which practically all golf holidaymakers in Thailand carry around have a movie-capture option which is ideal for this purpose. You will be very surprised to see what is really going on, versus what you thought your swing looked like. 
3. CLUB SELECTION – PLAY THE PROBABILITIES
Take note of how often your approach shots come up short versus long. For most Thailand golfers the majority of misses come up short, because their club selection is based on what they expect to get if they hit the ball 'perfectly', which rarely happens.  On the other hand practically all Thailand golf courses feature trouble in front of the green. Therefore, you should choose a club that will land slightly long instead of short. This will insure that more often than not you will be using the correct club, and in those times that you get a perfect hit, at least you will avoid the trouble side of the green.
Let me know how these 3 tips work for you. If they help Jim and the pros I am sure they can do the same for your golf in Thailand too.
This post has already been read 16 times!