For many golf vacationers, they are used to playing in Phuket, Hua Hin, Bangkok and Pattaya. However, Khao Yai with over seven golf courses, is also a very special golfers paradise.
Its National Park is only just over two hours north of Bangkok and covers more than 2,000 square kilometers of forest and grassland. Here there is more than 50 km of hiking and biking trails, plus twenty waterfalls including the 150m-tall Haew Narok and 20m-tall Haew Suwat.
But apart from the road signs stating Beware of Wild Elephants, within a one-hour radius there are also seven unusual and exciting golf courses to discover.
Here we recommend you try two courses designed by Jack Nicklaus and another two by another American Bob McFarland.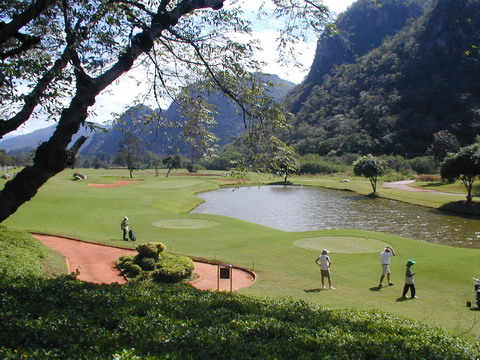 Kirimaya a Nicklaus Country Track
Meandering around a tranquil 5-star resort is an 18-hole course, that includes lily pond hazards, a few well placed bunkers and some undulating greens. With a mountain backdrop and wonderful colorful flora at each hole, this is a very magical experience.
Jack's other 18-hole layout is at The Khao Yai Golf Club, nestled between some large rocky mountains. This is one of the oldest tracks in the Park and has sloping fairways and fun greens. Incredible views add to the experience.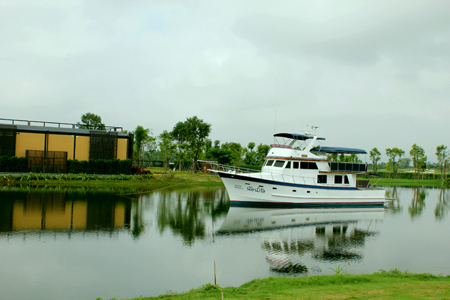 Even a Private Landing Strip.
Rancho Charnvee Resort & Golf Club designed by McFarland, is perhaps the nearest to Bangkok and has hosted several Championship events. Teeing off over a lake with a large motor cruiser moored, this can be quite a windy 18 holes. For jetsetters you can land your plane by the 11th hole and grab your clubs for a memorable round.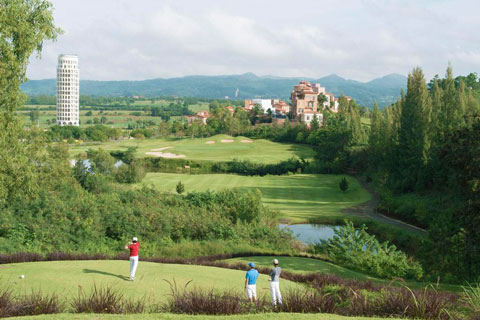 Am I Really Playing Golf in Italy?
I have left the best until last, as there is always a thrill to play a golf course for the first time, and Toscana Valley is no exception.
This 18-hole course is considered very special, as not only is it located within in some stunning scenery throughout this UNESCO world heritage site, but you are also playing alongside a unique multimillion-dollar Italian styled village.
Their signature 12th hole, tees off high above the valley with two water hazards below, then up to a raised green. This is to a backdrop of a full-sized replica of the iconic leaning Tower of Pisa, now a new hotel.
Yes, definitely a kodak moment here, and beware of bogies here as it has an unforgiving green!
Sometimes it is hard to believe you are playing on a Thai golf course, instead of around an exquisite Italian mountainside village in Tuscany.
Golfers Tip: If you are not lucky enough to own one of the beautiful homes at Toscana Valley, you can still use Toscana Valley as your base for a wonderful golf vacation. Here they have three excellent hotels on site, namely the Town Square Suites, Hotel La Casetta and Toscana Piazza.
Written by Mike Bridge
On-Line Editor of Thai Golf News, The Pattaya Golfer and Member of the International Golf Writers Association (ITGWA).
This post has already been read 12 times!