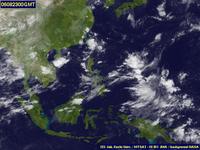 So much for the "rainy" season. As you can see at left is today's satellite radar image from Thailand and not a snippet of rain to be seen over the region! Actually, this is kind of an anomaly as this time of year is usually the rainiest month (see rain chart in part 1 of this post). Well "This is Thailand" as they say and anything goes. Now for the final part of this post.
The rainy season is from June through to September, when the south west winds from the Indian Ocean bring in rain laden clouds. Most days there are downpours, and the timing is a bit unpredictable, but they tend to last not more than an hour. There is less sunshine during this period, and temperatures are moderated. However, for the real golfing enthusiast, the rain very rarely leads to abandonment of your game, and after taking some shelter, the courses dry out remarkably quick. The major advantage about visiting Thailand during this time of year, is the very cheap accommodation with some bargain deals to be had, together with much quieter golf courses, giving you more flexibility to choose when you play. October can be an ideal month for golf as prices are still at their lowest levels and often times the rains have cleared and the cooler season temperatures start to roll in.
With regards to accommodation, there are huge differences in prices depending when you travel. Whilst in Bangkok this is less so, due to the city receiving visitors all year round through not only tourists, but also visitors on business.
For the more popular tourist destinations such as Phuket, Pattaya and Hua Hin, the prices vary much more significantly. From November to March, the peak season, is when they charge their premium rates. The week leading up to Christmas, and through New Year, sees an additional increase, which is some cases can be quite significant, more than double normal rates. Prices reduce after the Thai New Year in April, and in some instances, the cost of hotel accommodation can be less than half of the peak season prices.
It is therefore very important that when you are planning a golf holiday to Thailand, that you take account of both the best time to travel with regards to weather, and also with regards to accommodation.
Without doubt, November to February is by far the recommended time to come, with the weather conditions nothing short of perfect. As mentioned previously, this is peak tourist season and both the hotels and golf courses will be very busy, so it is recommended to organize your holiday well in advance. However, there is ample opportunity to visit at other times during the year, taking advantage of quieter courses and much reduced hotel prices, and still thoroughly enjoying what Thailand has to offer. March and October, the shoulder moths are my personal favorites as you can have your cake and eat it too. Courses are quiet, costs are low, and the weather will oftentimes be very golf friendly.
I hope this information was useful and do contact me if you need any additional suggestions. In the meantime, I hope everyone is taking advantage of the last days of summer and getting in some great golf while the days are long and weather is warm. Think positive and you will shoot par!

This post has already been read 12 times!