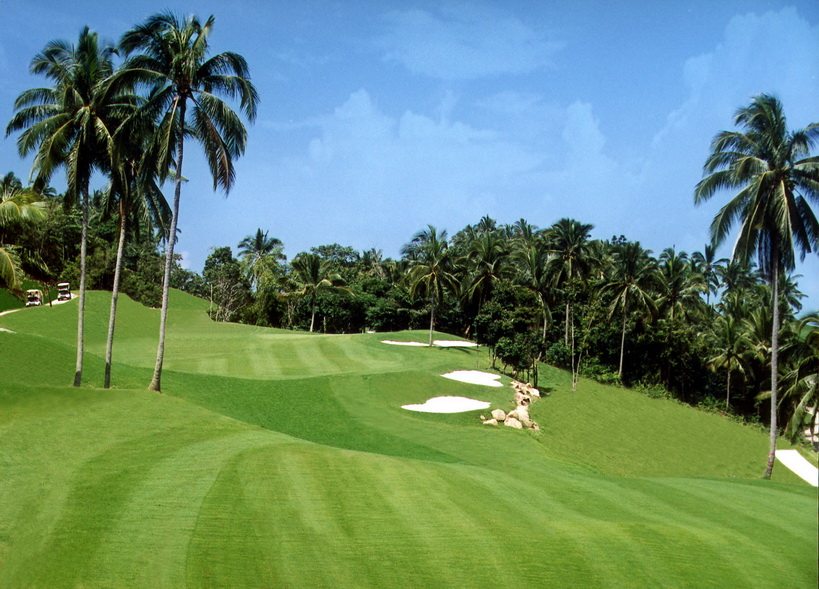 Poor golf hurts your ego and can lead to poor enjoyment when on a Thailand golf holiday. In fact, when I survey Thailand golfers on holiday as to their favorite course, the answers I get are so varied you would think that every golfer has a different priority as to what he/she feels is important in a golf course.
I hear things like (1) great design, (2) fantastic course, (3) excellent caddies, (4) top maintenance.Then when I dig-deeper I find a common thread running among the seemingly confusing answers. It all boils down to how well the golfers played on a particular Thai golf course on a particular day.
For example, while Santiburi Samui Country Club is a visually appealing golf course, no one ever says it is any good. Even the golf professionals dislike the course. This is due to many blind shots, unreasonably sloped fairways, and heavy ground cover lining the fairways leading to many lost balls on otherwise good shots and high scores overall for the round.


On the other hand, practically every golfer enjoys Thai Country Club in Bangkok. While this is certainly due to the excellent service and year-round good quality golfing conditions, the course itself is only of moderate difficulty. The excellent reviews are almost also certainly a result of Thailand golf tourists being able to score well at Thai Country Club.
Therefore, in order to get the most enjoyment form a Thailand golf holiday I suggest the following:
Bad golfing can lead to less than maximum enjoyment from a Thailand golf holiday. Don't let it! Improve your Thailand holiday golfing by following the tips explained above. You'll not only improve your golfing, but also will get the most enjoyment from your trip.  However, be prepared, you may just chop a boatload of strokes off your golf handicap!
This post has already been read 9 times!