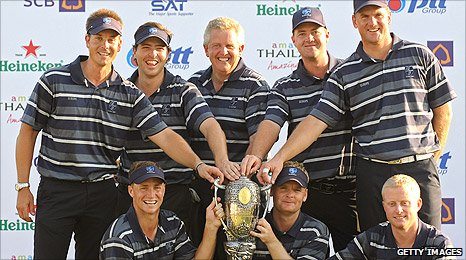 We all get bombarded by travel agents jargon or see the Tourist Boards latest TV adverts extolling their countries fantastic features. One such feature here in Thailand is golf!
Well I can safely say that Thailand golf is in a very healthy state here in the Kingdom of smiles with thousand of overseas players playing here every year. But it's not just the tourists who love it here, so do the professionals who make their living out of the game.
Thailand recently hosted the 5th edition of the Royal Trophy, Seve Ballesteros's version of the Ryder Cup, with Europe playing the best of Asia. This year's edition moved down to Hua Hin's Black Mountain, one of my favourite Thai golf courses. It seems that several of Captain Colin Montgomerie's team also agree with me too.


Johan Edfors won at Black Mountain in 2009 taking the Asian Tour Masters title and liked it so much he bought a villa on the course. Thailand's favourite golfer and Asian team player Thongchai Jaidee also bought a home there as did Simon Yates from Scotland.
Peter Hanson who was part of last year's victorious Ryder Cup, flew all the way to Hua Hin from his home in Florida to play in Monty's team. He liked the course, so decided along with Edfors and Fredrik Andersson Hed, to stay on for another week to train, before they all head off to take part in the Desert swing in the Middle East.
Hua Hin boasts several great golf courses including Banyan Golf Resort and Springfield Royal Country Club which is currently hosting the final of this year's Asian Tour Qualifying School. No wonder they call it the land of smiles….all the members of Montgomerie's  victorious Royal Trophy team definitely had a lot to smile about.
This post has already been read 15 times!