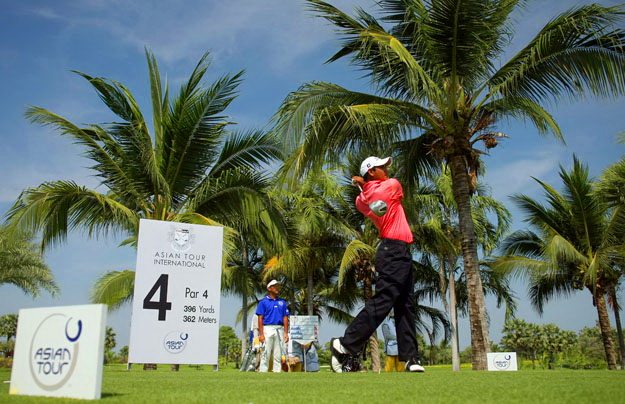 Last reviewed here in 2007, I thought it time to check in on this Bangkok Golf Club. Billed as the only exclusive, world class public country club in Thailand, Suwan Golf and Country Club certainly did not let me down!
My friends, two professionals and a happy 80's hitter like me, all decided that they wanted a new challenge. All of them had heard good reports about Suwan from me, but none of them had played the Bangkok golf course before.
The drive from the center of Bangkok takes around one hour. From the clubhouse, my friends commented that the greens looked immaculate and although the region had experienced rain and flooding, the course was totally dry.
At 7110 yards at the black tees the course proved too much, even for the golf professionals. So everyone settled for the 6600 yard blue tees. Teeing off at the first hole everyone noticed the numerous lakes and coconut trees. The 418 yard par 4 is was test as only one of the pros managed a par.
The par 3's proved easier. With accurate tee shots even my hacker friend managed pars, and the pros each got 2 birdies.  Things fell apart for everyone however on the back nine. Hole 11 is according to the score card the hardest hole on the course. 533 yard par 5, it crosses water twice before you reach the small green with its switch back terrain. A triple bogey here ruined my total for the day!
The signature hole is the par four, 17th. Nothing to write home about from the tee box, still an accurate tee shot helped me avoid the bunkers along the wide fairway and set up approach shot for par. The longest hole, a massive 631 yards, was last. I watched the 2 golf professionals cut around 100yards off the dogleg by going over the left out of bounds, but still managing to carry the trouble. It is clear that apart from a long tee shot, this hole needed some long shots to still reach the green in regulation. Overall, it was a great finishing hole to a good day out golfing in Bangkok.
Suwan Golf and Country Club has already hosted several tournaments, including the Asian Tour International 2010, and is easily my personal choice for best underrated golf course in Bangkok. Give it a try and you will not be disappointed!
This post has already been read 15 times!