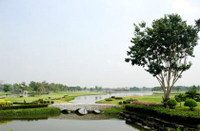 Golf courses around Bangkok are plentiful and Royal Golf and Country Club is one of my favorites. Located in Latkrabang – very near to the new airport it is now easily the most convenient golf course if you are flying into or departing Bangkok and want to get in a quick round..
Like just about every course in the Bangkok area – and, perhaps, even more so the most! – The Royal is very flat. However, each hole is extremely well laid out allowing for a wide variety of hole shapes and lengths. The course can be as demanding or simple as the golfer wishes with the white tee course being approximately 6,505 yards long whilst the championship tees measure a much more demanding 7,054 yards. This, allied with arguably some of the most consistently high quality greens of all Bangkok courses, means that the course is an enjoyable experience for all standards of golfers.
Without doubt the best hole on the course is the par 3 17th, which would not be out of place on a PGA tour venue. Ranging from 195 yards from the white tees to 230 yards from the black tees, the hole is over water to a wide but shallow green protected by serious bunkers in front. A challenge to any golfer.
Playing the course earlier this week, I met with a Norwegian gent who was on stopover for 12 hours in Bangkok. He decided to leave the airport in search of a quick game before catching a midnight flight home. He enjoyed The Royal so much that, as I was finishing our round, we met him going to the first tee for his second 18 of the day. I am not sure how happy his caddy was but I am sure that she enjoyed the extra tip and the fact that he was in a buggy for the second round. Talking of caddies, I have always found the 'Royal' caddies to be some of the best experienced in Thailand. Back to the Norwegian chap, I bet he slept well on his flight that night!
One word of warning however – Don't order the Western food in the restaurant– not that it is expensive, juts they have no clue on how to prepare something as simple as a club sandwich. Order Thai or Japanese food – as the Thais would say 'Aroy mahk'.
I have played The Royal Golf and Country Club maybe 50 times now and have never heard anyone complain about the course (except when the greens were top dressed, but that can be said about any course in the world from Pebble Beach to your local pitch and putt). That in itself has got to speak volumes, surely.
If you have any experience playing The Royal feel free to post a comment here of if you prefer you can send me your story at my Thailand golf vacation company.
This post has already been read 12 times!