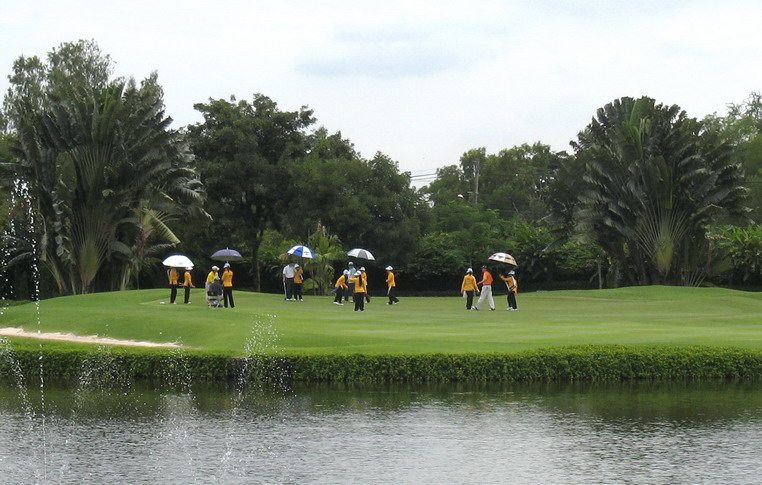 Krungthep Kreetha golf course is reviewed here by long time Bangkok resident, Dwight Tichenor.
Krungthep Kreetha is one of the older Bangkok golf courses and although it is located pretty much in town, it seems to be passed over by many local golfers:  they are missing a fine, challenging golfing experience. 
Well maintained, with some of the finest fairways and greens in the area, it posses a fine test for every golfer.  Never unfair, it brings out the best in your game, or the worst, depending how you are striking the ball.  The caddies are excellent and diligent and know the twists and turns and rolls and slopes of the greens.  I have always had the same caddie for our weekly 4-ball and she's affable, knowledgeable and good fun on the course (although she does seem to say "mai pen rai" far too often but perhaps that is because my game occasionally deserts me).
The front 9 starts off with a pleasing par 4, a nice dogleg left with water on the right and left.  A short drive to the dogleg turn puts you in position to go for the green, a flat, easy target.  The second is a longish par 5 demanding a straight drive to avoid the water on the right and the trees on the left.  It's a lovely hole.  These are followed by a short par 4, an island par 5, and another longish par 4.  The 6th hole is a fun par 5 demanding shots over water 3 times.  A birdie chance for the long hitters, a par chance for me! The front finishes with three nice holes, a par 4, a 3 and a final 4:  A nice way to start your round.
The back also starts with an interesting par 4, a short, easily reached hole well bunkered with a two tier green.  A small creek runs through but rarely is a problem.  The next is a longish par 5 with water guarding the green, waiting for an errant approach.  Keep it to the left a wee bit to avoid the many "valleys of sin" lurking on the right.  12 is deceivingly short par 4 that always seems to play longer than its 376 yards.  Well bunkered with a sloping green, right to left, feeding down into a nasty little collection area off the back left of the green.  13 is a nice slight dogleg left (keep it right!) with some grass bunkers positioned to nab any short approach shots.  A long par 3, 221 yards, follows where par is a good score.  Hole 15 is my favorite hole, a shortish par 5 with a sharp dogleg to the right.  It has a lovely deep bunker just in the right front which needs to be avoided at all costs.  The second shot set up an easy approach to the green – not long at 488 but a special hole with a nice flat green.  In contrast, the green on hole is the trickiest on the course.  With a sharp back to front slope, anything above the hole tends to run forever; keep it under the hole (and avoid the water in front and the bunkers left and right).
Krungthep Kreetha finishes with the difficult par 4 17th , a dogleg left which is the bane to all slicers – trees and bunkers await the errant left to right shot.  The small raised green can be problematic.  Your day finishes with a nice par 4, straight away with not a whole lot of problems.  A wide fairway and a raised green make this an ideal way to end your day.  You'll find a fine outing there, not too expensive, with moderate green fees and a fair restaurant.  The locker room is fine, but nothing special.  For being so close to Bangkok, it's well worth a visit.  You may find yourself returning!
This post has already been read 9 times!