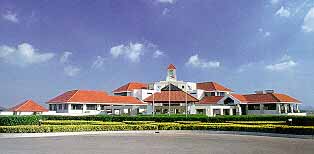 Hua Hin now has 9 golf courses, including 2   which make my Thailand's top ten list, Black Mountain Golf Club and the new Banyan Golf Club, the later which was the subject of recent post. Here are my favorite golf clubhouses in Hua Hin.
Springfield Village Golf and Spa. The clubhouse was constructed in an elevated position that will leave you with a lasting impression. The interior is beautifully finished in polished marble and granite, and portrays a feeling of opulence associated with grand palaces. The changing rooms are quite excellent. There is a nice patio area outside the locker rooms where you can sit and have a cool drink while cooling down before your shower.
Black Mountain Golf Club. The view from the clubhouse is stunning, and gives a panoramic view of the whole golf course and the "Black Mountains". The modern clubhouse facilities on offer include fine dining in the restaurant, a well stocked golf shop and luxurious locker rooms. Headed by a European chef, the restaurant features daily specials which range from light freshly made crepes to eclectic Asian-European fusion cuisine. Rain showers are a nice touch in the lockers and the small seat in each shower stall makes it easy to take a lengthy water massage.
The final article in this series will cover my favorite clubhouses in Pattaya.
This post has already been read 11 times!