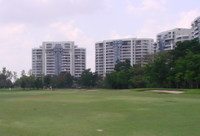 Not having played at Thana City Golf and Country Club in a few years, I thought to give this prior top course a try and check on conditions. Here is my up-to-date course review.
Thana City was one of the first courses built along the Bangkok to Pattaya corridor. It is just 18km from downtown Bangkok and I was able to reach the course in less than one hour, even in heavy traffic. The golf course now boasts mature tree lined fairways which unfortunately show the course's age. Plain grasses, reeds and lots of sand were originally used to create an illusion of a seaside links right in the middle of one of Bangkok's biggest condominium developments.
Inspired by Australian Gregg Norman, Thana City also has strategically placed fairway bunkers on almost every hole approximately 200 and 250 yards from the white and championship black tee boxes, respectively. This course design element making careful driving a must, else face your second shot from the sand.
The other prominent course layout features such as undulating greens, large high lipped bunkers next to water hazards, meandering streams across many fairways, and 4 island greens make the overall course design one of the more interesting as compared to other area golf courses.
However, lagging maintenance at Thana City, along with large numbers of locals playing due to the course's close proximity to Bangkok prevents Thana City from being featured in many Bangkok golf packages. There are definitely better course selections to recommend, at least until the course management put in a renewed effort to bring up course conditions or decides to overhaul the course to prior years standards.
The large opulent club house and sports complex share the same fate as the course, also having seen better days in the past, and is now quite run down. The one highlight is the club house pro shop, which is one of the better stocked and more reasonably priced golf shops attached to any Bangkok golf course. I also recommend the club house dining facilities as a nice selection of traditional Thai, Chinese, Japanese, and western dishes are served by very friendly beer promotion staff.
If anyone has recently played at Thana City, or any other course for that matter, please feel free to post a course review here or if you prefer drop me an email at my Thailand golf vacation company and I will take care of the posting duties.
This post has already been read 20 times!