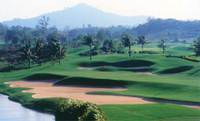 This is the second part of this post comparing two major choices for a great golf holiday in Thailand. Today's post will cover the city of Pattaya. Tomorrow I cover Hua Hin.
The city of Pattaya is located 100km south east of Bangkok, on the eastern side of the Gulf of Thailand. It is an easy 2 drive from Bangkok now and when the new airport in Bangkok opens in 2007, you will be able to be in Pattaya in just over an hour after touchdown. The region around Pattaya hosts a huge variety of golf courses in Thailand. There are many championship standard courses with Laem Chabang International Country Club shown at left, an excellent example.
Read more about the city of Pattaya and its golf courses in the continuation of this post.
Originally, Pattaya was a quiet fishing town but that is certainly not the case today. It has been built up significantly and earned the reputation in the past as the party city of Thailand, with a multitude of beer bars, music venues, and shows of various different varieties. However, this is slowly changing and now Pattaya has become a popular destination for both families and singles. Huge investment is taking place in Pattaya and the area is now one of the fastest growing in Thailand. New five-star hotels, private housing, and upmarket spas are being built at a rapid rate, enhancing the image of the city.
It must be pointed out however, that Pattaya is not for the shy and retiring, looking for a peaceful relaxing holiday, although just a few miles round the coast Jomtien Beach is a far quieter location for those visitors looking for this.
The choice of golf in Pattaya is huge, and this leads to its popularity with visitors. There are 20 courses within a 45 minute drive, ensuring you have plenty of choice.
Outside golf, there are many activities for both families and singles, from recreation, entertainment and sightseeing. There is ample opportunity for bargain shopping both in the night markets, and the modern shopping centres.
Because of its fishing village history, you will find some of the best seafood restaurants here, together with many restaurants offering a wide range of international cuisine.
There are many activities for both families and singles, from recreation, entertainment and sightseeing. On the shopping front, the Night Market truly has something for every taste, and offers every conceivable designer label.
The combination of diving, water skiing, snorkeling, and game fishing along with the range of Pattaya golf courses makes Pattaya number one for sports activities in Thailand. Jomtien Beach is the windsurfing 'Mecca' of the country with its beautiful, white sandy beaches along a palm-lined promenade. Island hopping is popular here, as an easy 30-minute boat ride will take you to isolated beaches for swimming in aqua blue waters with amazing coral reefs.
This post has already been read 10 times!