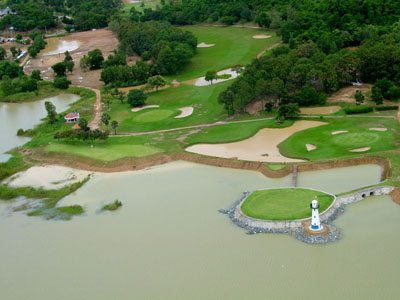 Here is a great story from a good friend in Pattaya.
I was once like you folks—playing all the Pattaya golf courses, tipping those lovely caddies twice as much as I should, riding a la cart rather than do the plebeian trudge that would scuff my alligator Foot-Joys, gamboling over golf courses in Cambodia where the game is just getting a foothold…Then, one by one, my old and now ex-friends in foreign lands started treating the loans I had given them as largesse.
Subsequent penury has separated me from your good golf company. Now I rent a one-room apartment well south of Pattaya. My golf is reduced to Plutaluang, the Navy golf course in Sattahip. I ride to the course on a rented Honda 125, my bag athwart the buddy seat. I almost never get run over by trucks and buses or those tourist vans with bar and movies that haul you, my old golfing cronies, to one Pattaya golf course or another, then back to the diversions of Pattaya City.
Plutaluang has four well-designed nines, built largely on hilly terrain that makes them interesting. The Thai Navy Golf Course is definitely a good value for money with normal green fees of $35 US Dollars or less during the low season from May to September. The greens are not bad at all, though some are huge enough that an "on the green" in a far corner gives you a long rolling shot tougher than you'd have if you were chipping from the same distance.


Most of the fairways are infiltrated with a challenging and low-lying grass that produces a hard and slightly uneven surface. The rough is relatively short, but thick and grabby; traps tend to be coarse sand. Par fours play long. I hit about 210 and still need a fairway wood to reach half of them when fairways are a little damp.
Despite its being a Navy course, the water hazards are not out of line except on the beautiful and tough par 3 signature hole, nearly an island, whose green slopes in all the wrong directions unless you consider water your friend; and a long par 5 featuring a long third shot over an arm of water.
Caddies are good to excellent, in my experience.
Only significant problem is the often long distance between greens and the next tee. For you folks in carts, of course, no problem and, I say this with all respect, as you trundle by; seated in your artificial breeze and plastic shade with resting feet.
Clubhouse facilities are well beyond adequate. The restaurant there has a terrific view over the finishing holes with forested mountains as a backdrop, not a development in sight. Service is good, food is excellent, and prices low. Weekday play is light and 4 hour rounds are the norm.
So next time you are golfing in Pattaya head over to nearby Sattahip and give the pride of the Thai Navy a shot. You will be pleasantly surprised.
This post has already been read 24 times!