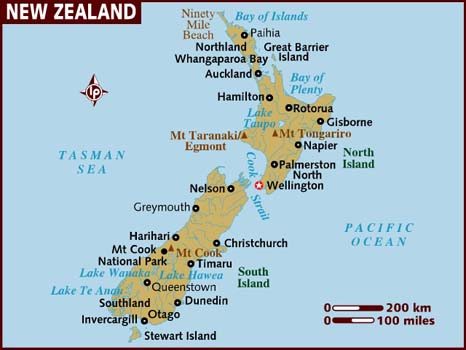 Here are my rankings on the golfing in these 2 countries on a scale of 1-10 with 10 being best.
Quality (30%)
New Zealand (10): With over 400 golf courses, New Zealand is a golfer's paradise. My 2 favorite New Zealand golf courses are Cape Kidnappers and Paraparaumu Beach, both of which rival any of the best golf courses in the world. Many other great golf courses in New Zealand can be found around the big cities of Auckland and Christchurch and also among the smallest country towns.
Thailand (7): There is good golf available in Thailand, with the best courses mostly located around Bangkok, Pattaya, and Hua Hin. Riverdale Golf Club in Bangkok is a good example of one of the newer top courses while Laem Chabang International Country Club is a time tested Jack Nicklaus design in Pattaya.
Service (25%)
New Zealand (8): Golf in New Zealand is well developed and Kiwis are noted for being friendly and casual people. This leads to generally a good service standard wherever you travel to, albeit with more do-it-yourself approach than is found in Asia.
Thailand (10): The golf in Thailand is all about service. Friendly locals and caddies greet golfers from around the world at every golf course across the country. Try playing on your own when you get back from a Thailand golf holiday! It will be then when you really miss the Thai service.


Golfing Experience (25%)
New Zealand (8): New Zealand is a country of magnificent scenery, varied land formations and a wide diversity of wildlife. At the right time of the year (i.e. southern hemisphere summer), this makes it a unique golf experience, especially for nature and outdoor lovers
Thailand (10): As a top tourist destination Thailand stands out with great golfing experiences too. Its people, sights and world renowned nightlife insure great golfing experiences both on and off the course. Golf in A Kingdom should be tried by all golfers to see what the entire buzz is about.
Value For Money (20%)
New Zealand (5): The best golf in New Zealand is expensive with green fees topping out over $200US a round. Fortunately for golf travelers there are also many reasonably priced courses around the country. Hotels, food, and alcoholic beverages are expensive, mostly due to the strength of the NZ dollar and getting to New Zealand is a costly venture in itself. These costs all add to making a New Zealand an expensive destination for a golf trip.
Thailand (8): Green fees at Thailand golf courses have gone up in recent years with the costs to play at the courses in highest demand like Siam Country Club, Blue Canyon Country Club, and Red Mountain Golf Club around $200US. On the other hand, hotels, transportation, food and drink, and entertainment are reasonably priced which make overall golf trip costs are a good value-for-money.
Overall Verdict (100%)
New Zealand (8.00):  New Zealand is an excellent golf destination with great golf throughout the country. Costs are certainly Hugh, but I would recommend all golfers put New Zealand on their bucket lists of places to visit, at least once.
 
Thailand (8.70): Thailand and New Zealand are both great, but different golf destinations. If you want the best golf in the world, try New Zealand. If you want unmatched service and fun, try Thailand. The choice is yours!
Stay tuned for the next world golf challenge to see how Thailand stacks up against other golf destinations. Let me know if you want to see your country included in my survey.
This post has already been read 12 times!