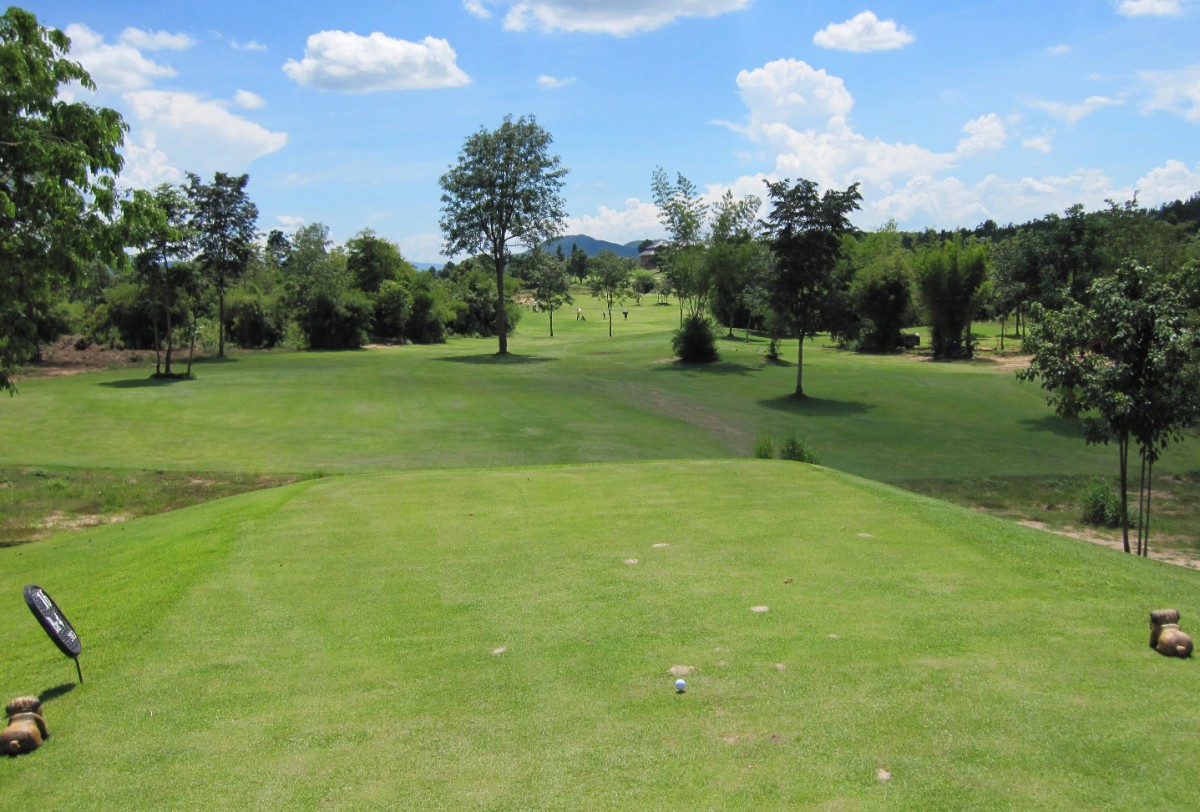 Gold Mountain Golf Club is the latest addition to the northern Thai golf scene.  Currently it is in a 'soft opening' phase and conditions are a bit rough, though all 18 holes are open for play.  The front nine opened in 2009 and the back nine earlier this year.  The clubhouse won't be finished until 2010.  For now the caddie shack serves as a limited service clubhouse and serves up a bit of Thai food along with an assortment of beverages.
Gold Mountain is located near Lamphun, just over an hour's drive from Chiang Mai.  The location is a bit remote, and in fact they don't even have a landline phone yet.  Finding it is not easy, as the entrance road at this time is a small and almost hidden dirt track over a hill with no indication of a golf course from the main road other than a small hand painted sign, in Thai, lying on the ground next to the dirt road.
From the very first tee you get a good indication of what is to come, as the most noticeable design element is a tree 100 yards directly in front of the men's tee box smack in the middle of the fairway.  The fairway is otherwise fairly wide, in fact one of the widest on the course.  But you have to decide what to do about that damn tree.  Loft a shot over it.  Fade or draw your ball around it.  Hit a low liner under the overhanging branches.  Or go straight at it on the gamble that trees are 90% air plus your swing also has a high error percentage, then your chances of actually hitting it are rather low.


I've seen this design element before, Like at Suwan Golf Club in Bangkok and Phokeethra Country Club in Siem Reap. (Hello Khun Thio!) However Gold Mountain takes it to a new level, with at least 5 holes using the same gimmick, smack in the middle of the fairway, 100 – 150 yards out.  And in some cases not just a lone tree – a few holes have several trees in or near the middle of the fairway, with a couple having so many you'll have to ask your caddie where the heck the fairway is.
Aside from that, the front nine is rather open and defenseless.  However the back nine is much tighter with thickly vegetated waste areas, OB and water hazards lurking to catch wayward shots on many holes.
As mentioned the course is just in a soft opening phase at this time so I don't want to be too hard on it for now.  The tee boxes need a bit of leveling and the fairways are slightly uneven as the ground is still settling.  Though from this viewpoint the course would do well to take a chainsaw to most trees in the middle of the 'not so fair' ways and use bunkering / contouring / rough for added defense. 
I wouldn't recommend tourists venture to Gold Mountain yet, though in a year or two things will no doubt be much improved. In the meantime, local Thais and expatriates like Bangkok Jock might like this new Chiang Mai golf course.
This post has already been read 17 times!