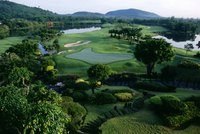 Here is a great photo of the 18th hole at Phuket's famous Blue Canyon Country Club. This is the course where in 1994 Tiger Woods won the Johnny Walker Classic coming from behind to overcome a 9 shot deficit and beat Ernie Els in a sudden death playoff.
The photo will be part of an upcoming campaign from Blue Canyon and to my knowledge this is the first posting anywhere on the internet! It is even not on my Golfasian web site yet.
This is a "must play" course if you visit Phuket and while being a championship venue it also is a fantastic example the Southern Thailand total golfing experience.
This post has already been read 10 times!