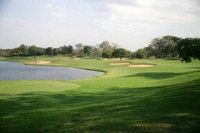 A little known fact:-
Within about an hour's drive of Bangkok city center there are approximately 60 golf courses!
Most budding golf travelers assume that, like most cities in the world, Bangkok only has a few courses within 'striking distance' and that the best golfing locations in Thailand are at the seaside resorts of Pattaya, Phuket, or Hua Hin. Whilst these locations are very good for golf, Bangkok truly reigns supreme for choice of course.
Obviously, the actual standards of courses vary greatly, which means that every level of golfer has a huge choice of courses to pick from. There are 'cheap and cheerful' courses like Lam Luk Ka Country Club or Rose Garden Golf Club where anyone can have a weekday game for as little as US$25. There are also some truly spectacular world class courses that have played host to major PGA tournaments like the Thai Country Club (Honda Classic/Volvo Masters), Navatanee Golf Club (The World Cup), and Alpine Golf and Sports Club (Johnnie Walker Classic) – a challenge to even the best golfer. There is even a course slap bang in the middle of Bangkok – The Royal Bangkok Sports Club – although you have to be invited by a member to play there!
Combine this with the well known facts of golfing life in the City of Angels – guaranteed warm weather (365 days a year), good caddies, excellent hotels, restaurants, shopping and nightlife – and, just think of it…………. you could play every day for 2 months and never play the same course twice.
That has to make Bangkok one of the world's unique golf vacation spots and a must stopover for anyone visiting Thailand or having a few extra days for golf in Asia! If you have any Bangkok golf stories or need any additional information please post a comment here or contact me at my Thailand golf vacation company.
This post has already been read 23 times!