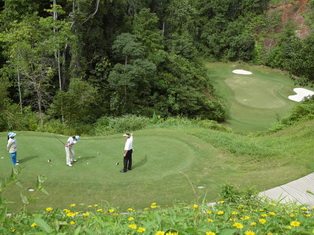 Sometimes I think golfers on holiday forget that the game of golf is all about getting out in the fresh air to hit some balls and then have a cool drink with your fellow golfers afterwards.
Maybe it is because we have been brain-washed. Golf in the 21th century seems to be all about one up man ship and this is being fuelled by the manufacturers with their massive marketing campaigns.
"This revolutionary six layer ball will give you distance and those clubs made from new space-age materials will give you control. "
Of course there is the friendly banter among Thailand golf holidaymakers and the occasional wager on the match, but in general I have found playing golf in Thailand a very friendly and enjoyable experience for all who travel here for their golf vacations. Sure we would all love to play at St Andrews, Troon or Augusta, but  I bet it's a lot more fun to have an experienced Thai caddie telling you that you have 138 yards to the middle of the green or to aim one cup left of the hole.


Another big plus point here in Thailand, is that you really do get a variety golf courses to test your game. It is not only challenging but also exciting to drive off a raised tee down across a valley of pineapples onto an undulating green surrounded by palm trees. Thailand is in the business of providing the "total golf experience".
Check out the 17th at Red Mountain in Phuket….it is literally 140 metres down a mine shaft. Disused thank goodness!!!  Chiang Mai Highlands 18th is one of the best finishing holes anywhere, playing over a large ravine to an uphill green that is reachable in 2 for long-hitters who do not mind the risk of a watery ending.
Monkeys, pelicans, giant lizards and other wildlife are found at many of the Thailand golf courses….all adding to the golfing experience in Thailand. Or how about riding an elephant after your round?
Golf in Thailand is all about experience, and let's not forget it is all done with the biggest SMILES anywhere on the planet!
This post has already been read 20 times!