Sawasdee krap (Greetings) From Thailand!
Since this is my first post, I thought to take this opportunity to introduce all readers to the Thailand Golf Blog. It is my intent to share my, and other peoples, valuable knowledge and expert information about playing golf and golf travel in Thailand. I will be writing on such topics as my day to day golf experiences, prior tours and travels I have made throughout Thailand,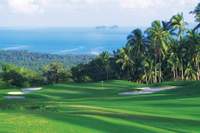 useful golf tips which have helped me improved my game and other related subjects which golfers coming to Thailand will find interesting and enjoyable. To get things started I wanted to share my favorite image of golf in Thailand. The photo was taken at Santiburi Country Club on the southern island of Koh Samui. It reminds me what golf in Thailand is all about; enjoyment and relaxation and I hope this blog compliments and conveys the same emotions. Please feel free to subscribe, leave me comments, send an email, as well as visit my business web site which has even more information on Thailand golf travel.
This post has already been read 10 times!