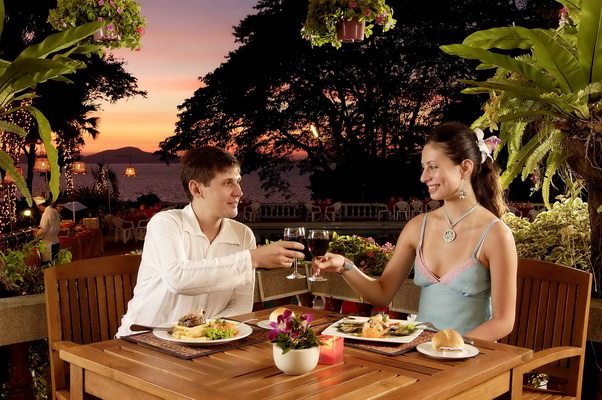 Many on a Thailand golf package spend at least a few days in Thailand's capital during their golf holiday as it offers convenient flight connections to around the world in addition to great golf, high standard accommodation, shopping, dining and entertainment. I am often asked for restaurant suggestions and while I do not claim to be a foodie, I know what I like. Here is a brief list of some of my favorites:
ITALIAN
There are many good Italian restaurants all over Bangkok in various price ranges. The ones at the Sheraton on Sukhumvit and the Dusit Thani hotels are both very good at the higher end. Others I like a lot that are more moderately priced include La Gritta on Sukhumvit Soi 19, Basilico on Sukhumvit Soi 33, Via Vai on Sukhumvit Soi 8 and Limoncello on Sukhumvit Soi 11.  All offer a great pizza and nice wines as well as an assortment of homemade pastas and more.
THAI
This one is almost impossible because great Thai food is served up in so many places. Even the street food can be good though I don't particularly enjoy sitting in plastic chairs on the sidewalk and dining a few feet from diesel belching busses while dodging the motorcycle taxi boys flying past our table.  For cheap and good, I like the outdoor corner restaurant just a few meters down Sukhumvit Soi 14 from the Asok Skytrain. At the higher end, the better hotels almost all have good Thai restaurants. It's hard to go wrong with Thai food in Thailand and often the difference in price is more related to the atmosphere than the food itself.


CHINESE
Outside of Bangkok's Chinatown which has many good restaurants,, Chinese food is not popular with the local Thais who consider it bland in comparison to Thai food.  For Hong Kong style Dim Sum I recommend Jasmine restaurant in the Centara Grande @ Central World. The all-you-can-eat ala-carte lunch is only $18 a head with million dollar views of the Bangkok skyline free of charge. Just ask for a window table and you can spend all afternoon indulging.
JAPANESE
There are quite a few good Japanese restaurants around Bangkok. At the higher end, Ten Sui on Sukhumvit Soi 16 is great and the atmosphere is very Japanese. Almost hidden behind a wooden fence, look for it on the left side of the soi just past Foodland. Tsu and Nami at the JW Marriott are also popular higher end options with local Japanese expats. For something moderately priced, the reliable Fuji chain has outlets in numerous shopping centers and is quite popular with local Thais as well as Japanese
INDIAN
Rang Mahal atop the Rembrandt Hotel is an always popular sophisticated high end choice. The cuisine is Northern Thailand, which is by far the most popular in Thailand.
STEAK
I cannot personally recommend beef in Thailand, but fortunately some of my friends can. The New York Steakhouse at the JW Marriott and RR&B at the Landmark Hotel are both on the pricey side but have the best steaks in Asia.  Both feature imported grain fed beef from the US and Australia, with Japanese beef also available at times.  Both offer great steak though I give the nod to the RR&B for its great city views from high atop the Landmark (the glass elevator ride up is a nice touch as well).  Prices start at about $65 for the steak (excluding side dishes and beverage), with our favorite being the US Black Angus fillet for about $ 25 higher.
For good beef on a more moderate budget, Tenderloins restaurant and sports bar on Sukhumvit Soi 33 is good and draws quite a few regulars from among the local expats.  Imported beef mainly from Australia but with a few cuts from Argentina and Canada as well – ask your server what the chef recommends as the tastiest option can vary from day to day.  Most cuts run about $ 30 – $35 and include side dishes. Despite being known as a steakhouse, I am quite fond of the chicken burger and personal pizzas here as well.
GOOD AND INEXPENSIVE
MK Suki is a very good Thai style suki restaurant chain with outlets in several shopping centers around town.  For more atmosphere their free standing MK Gold restaurants are a hit as well.  And if you are near a Foodland grocery store and in need of something fast and inexpensive, check out the in-house Took Lae Dee (Thai for 'cheap and good').  Our favorite is the 62 baht American breakfast served 24 hours!
I could go on, but I will be late for my tee time today, and besides I'm getting hungry…
This post has already been read 12 times!