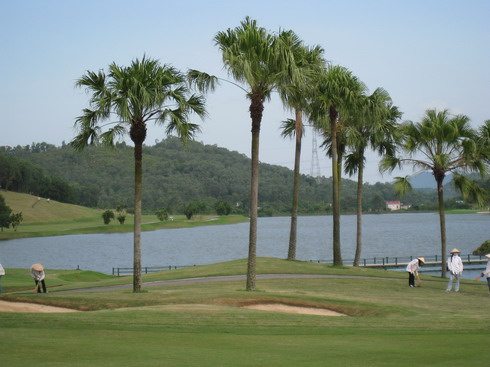 Why do people who golf in Thailand often play without following the rules? Do they want to cheat or is it just that they do not understand the rules of golf?  Assuming the later, here  are simple definitions of the 5 most frequently used rules that all Thailand golfers should understand:
1. OUT OF BOUNDS (OB): When you loose a ball in the jungle, say at Santiburi Samui Country Club, you must go back and hit your next shot from the same place that you hit the ball that went out of bounds. No exceptions and that means at all Thailand golf courses!
2. LOST BALL: First of all, forget hazards. This information is for Thailand golfers who lose their ball in the rough or trees and need to know what the options are. Many players think it's all right to drop a ball where they think the lost ball is and go ahead and play.  This is okay if you are playing "American golf rules" (cheating) or if you want to save time.  But really if you play by the rules when golfing in Thailand you have just one option.  You must return to the place where you hit the shot that resulted in the lost ball and play another. 
3. FREE DROP: If you play at many of the more remote golf course in Thailand you will find many areas under repair, cart paths, staked trees, and immovable objects. If the problem area interferes with your stance or swing you get a free drop. A line-of-flight dilemma, the big tree between your ball and the green on the 4th hole at Blue Canyon in Phuket isn't a justification for relief.
4. UNPLAYABLE LIE: You can declare any ball from any lie unplayable and take a drop.  It's a one-stroke penalty. It's important to find your ball because the penalty is only one stroke for an unplayable lie and two-strokes for a lost ball.  Quite often your only option on an unplayable lie is to go back and hit from the position of the previous shot. This applies to all lies found in the rocky outcrops at Laem Chabang  and the 18th at St. Andrews in Pattaya.

 5 HIT THE WRONG BALL: One of the most common errors made by Thailand golfers is to hit the wrong ball, usually on the second shot on long par fours (Alpine Golf Club in Bangkok) or third shot on long par fives (Amata Spring Golf Club in Bangkok) or very long par sixes (St. Andrews Golf Club in Pattaya).  This is a costly mistake. You have to go back and play your own ball and add two strokes to your final score on the hole. This is an easy mistake to make when golfing in Thailand. I suggest all Thailand golfers mark your balls with some kind of easily recognizable symbol. I use a happy face 
 These are just a few of the rules that are often misunderstood by golfers in Thailand. If you want more information and the official rule book; it is available online (www.usgapubs.com) or you can call toll free 1-800-336-4446; the cost is only $3.50 and that includes shipping and handling.
Have a great round and remember to follow the rules when golfing in Thailand!
This post has already been read 10 times!