I can't remember when I lost my first tee traumas. I remember having them; feeling super conscious about people watching and living in fear of a top, shank, massive slice (probably) or a huge pull. But they've gone, not because I'm a superb golfer but rather I have definitely gained in confidence since those days and as a single figure player I'm not supposed to have traumas…nerves maybe but not traumas. Importantly, I have also conditioned myself to be more positive in my approach to any shot, particularly that of the opening one.
Nevertheless, things aren't that straightforward and with all the positivity in the world some shots are more intimidating than others.  In general terms I'd rather not have a long par 3 to start with simply because long irons are the weakest part of my game and there just seems to be less margin for error and more likelihood of a bogey which isn't the ideal start; plus my short game needs "warming up" as it's the second weakest part of my game!  When I asked colleagues at Golfasian there was definitely a theme…water left and right of the landing area are a big psychological issue no matter how generous the fairway, particularly with a strong crosswind, although a long water carry off the tee wasn't worrisome and personally I'd rather grip it and rip it anyway.  Let's look at some examples and perhaps you can post some of your own.
Alpine (Bangkok) 1st
About 400 yards this isn't a straightforward opener. Rolling hillocks left and right, water to the right and well placed bunkers all command your attention. You need to stay just right of the centre fairway and get the ball out there at least 250 yards to launch your day in the best possible way. Easy as that?
Royal Golf Lat Krabang 1st
Why is this tough? Because a fade is a no-no and almost always goes in the water if the shot is over 220 yards. Easy for you natural drawers of the ball but I have to work at it and the first tee isn't where I want to start. Trees immediately left block starting things out there so basically it's a draw or very straight hit…terrific.
Pattana 1st
Water left and right with a tight-ish fairway; take a look at the picture for goodness sake. Brings me out in sweats.
Red Mountain 1st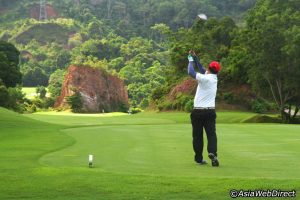 It's like a cobra; beautiful and deadly with jagged hills left and right. The fairway pinches in at a crest with lots of danger lurking beyond that's all blind. First time there and you are relying on your caddy's words of wisdom and a very smooth straight shot.
Banyan 1st
This picture is taken from above the the fairway looking up towards the green; much easier from here. You tee off from 240 yards directly right of here. You can see the lake at the corner on the right and everything slopes down towards it so basically it's a magnet. In truth a well-placed iron would do the job but likely leave a long shot into the green. Hit something long and the fairway shrinks to nothing. I like a 3 wood left centre and let the slope feed the ball towards the corner. Be confident and it isn't that hard but who's confident on the 1st?
Got any to add?
This post has already been read 10 times!