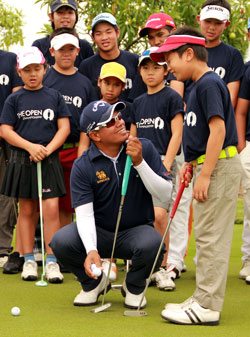 In many countries around the world, golf is suffering from the global recession, and the industry will really begin to suffer unless it starts to focus on its future. You can play a game of football with friends after school with a ball and a couple of posts for goals. Same for baseball, you can play the game just with sticks for bats and cans for balls.
But for new golfers to enter the sport, they first need to find and get to a golf course, and then they need to rent or maybe buy a set of clubs. All this can be very expensive.
Here in Thailand they have a very good system of encouraging newcomers to take up the game and big businesses are also helping too. For example, Singha and Chang beer both run academies where new golfers are groomed to eventually follow in the footsteps of the Thai legend Thongchai Jaidee. Thongchai even has set up his own golf academy in Thailand to train girls and boys.
True Vision is another Thai company supporting golf. In fact "10 th True Visions International Junior Golf Championships 2011 " was held last month in Pattaya at Rayong Green Valley Country Club and  St. Andrews 2000.  


Greg Norman and Gary Player are two legends of the game who have also called for a shift in the mindset of the golfing industry and are well represented in Thailand golf. A longtime advocate of  golfer development, Norman said: "We have to get more players into the game and be increasingly creative in the ways to attract them. Golf has to become more accessible and affordable. It has to open up." One of the most active golf course architects in the region with ongoing projects in China and Vietnam, Norman said there is a need to "think outside the box" when it comes to golf facilities.
He cited a 12-hole course he has designed in South America as a potential model for Asia. "There's nothing to say that a golf course has to be 18 holes. Why shouldn't 12-hole courses be successful in Asia?" said Norman, adding that such facilities would encourage more people to participate and also would take less time to play.
In fact there is just that being developed here in Thailand already. Scheduled to open in 2012 Golfeast is building a 18 hole course with 3 six hole loops just down the road from Rose Garden Golf Club outside Bangkok. This Bangkok golf course will be ideal for golf holidaymakers who want to get in a "quick round of 6 or 12 holes".
This post has already been read 17 times!