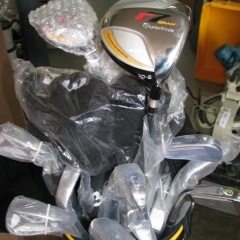 Counterfeit golf products in Thailand are becoming increasingly troublesome for the Thailand golf industry. I know of one Phuket golf course that has stopped selling clubs in their pro shop as a result. Chris Faxon, an anti-counterfeiting consultant and one of the leading attorneys in the Thailand golf industry, estimates the counterfeit golf industry is valued at more than $100 million US worldwide on an annual basis, including Thailand.
That figure has increased steadily over the last five years. Though no one can say how big the problem is within Thailand, I know of one recent raid on a Pattaya golf club fitter that resulted in seizures of counterfeit golf equipment. Additionally, at least 3 golf tour operators (1 in Bangkok, 1 in Hua Hin, and 1 in Pattaya) use only use fake golf clubs for their rental sets. Besides being illegal, this is also highly unethical.
A client who visits for a Pattaya golf holiday every six months told me the other day at Laem Chabang that he has started seeing Titleist Pro V1 balls being sold at the second hand golf ball shops in front of the course. In the past, I never saw any counterfeit balls in Thailand until early this year, certainly not at any retailer, so I will have to check this out for myself.
Faxon, who works for most of the major Thailand golf manufacturers says fake equipment a big problem because the product is sold as authentic and it puts the consumer in a very difficult position when deciding on what clubs and balls to buy for their Thailand golf vacation.
Fake golf equipment in Thailand comes in all shapes and sizes. Clubs and balls are the biggest areas, but there are also golf bags, travel bags, umbrellas, gloves, apparel and caps. Counterfeiters leave telltale signs. The quality of the paint on clubs may be inferior to the legitimate product, as may be the polishing. Head shapes may be different from the real deal. Glue residue may be evident in the hosel area or the ferrule. Some newer model clubs may have glue residue around their inserts, or the inserts may not fit properly.
One Thailand golf vacationer says the location of the seller is extremely important. Buying directly in Asia should raise a red flag. If the price is below wholesale or dealer cost, Asia golfers may want to take their business elsewhere. I guess the old adage "Buyer Beware" goes for golf equipment in Thailand as well as any other branded goods.
I say, if the price is too good to be true, it's a bad deal!
This post has already been read 11 times!