Over the next few months, many international golf vacationers are heading for SE Asia to experience a growing trend of competing in Amateur golf tournaments.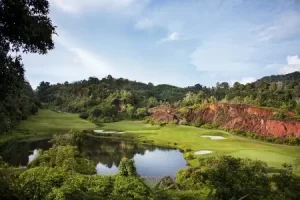 1,000 have already registered with leading tour operator Golfasian and to cope with demand they have just announced the DoubleTree by Hilton Phuket Golf Invitational 2023 to be held on the Thai island from 18-22 July 2023
CEO at Golfasian Mark Siegel said, ' Many of our customers enjoy the camaraderie and experience with playing at our tournaments and we try to create a fun but professional atmosphere.
There are sponsors, daily competitions and even the caddies wear bibs with the player and country displayed."
If you are considering playing golf in Thailand or even Vietnam, check out their golf events pages at https://www.golfasian.com/events/
If you want to conquer Red Mountain, Laguna Phuket, and Blue Canyon Lakes, then register by 20 April and get 10% off!
At least you don't have to go to Q School to qualify!!!